How would you like to have the most restful, refreshing year you've ever had? You can make changes to your life that will result in less stress and more satisfaction with the life you have.
Unless God has specifically led you to do something, don't do it, especially if it is stressful or draining. Make up your own list of things that refresh you. Doing more of what you love will cause endorphins to be released, which will help you have a sense of well-being so you can thrive rather than just survive.
Pay attention to activities that give you energy. Make your own list. Here's mine:
Things that Relax & Refresh Me
Nature (ocean, lake, river, mountain, beautiful garden with flowers, waterfall, sunset, star gazing, cloud watching)
Art (painting, coloring doodle books, watercolor, mixed media)
Talking to friends (phoning/visiting family and close friends, talking about things that matter)
Reading refreshing books (non-fiction self-help in fun areas like gardening, Christian books that uplift rather than drag down)
Going to yard sales and resale shops (clothing that fits and is feminine, fun activities/homeschool stuff, gifts to give the people I love, how God has provided for me all these years)
Brainstorming fun blog posts & YouTube videos
Writing poetry
Planning something (the homeschool year, date nights/weekends away, the garden/backyard, one of my kid's themed birthday parties)
Organizing things (seeing orderly rooms, drawers, shelves is satisfying)
Watching YouTube videos (building my learning in different areas)
Going on field trips with my family (adventures, family bonding time, hands-on learning)
A fire in the fireplace (s'mores in the fire pit outside, candles lit in the living room or dining room)
A hot bath (Epsom salt, bubble bath)
Writing from my heart (do more 10-minute writing prompts for the sheer joy of writing)
More Ideas for Making Your Life Less Stressful
"Fatigue, studies suggest, often has its source in emotional rather than muscular or cardiovascular exhaustion…" – Richard A Swenson, author of Margin. Find out how to create margin (space) in your life so that you are not always tired:
Make sure you get enough quality sleep:
Find a form of exercise that you enjoy (mine is Zumba), and do it several times a week. You will feel way better and think with a crisper mind and not feel bogged down. Here are some ideas to get you started:
Have more fun with your spouse:
If spending time with friends energizes you, work that into your week. But if being around people all the time drains you, reduce the amount of time spent with people. You can still invest in the lives of others by writing encouraging notes to the people you love instead. Most people I know keep every encouraging note they've ever received, and often you minister more to people with something tangible.
Don't feel bad if you have to drastically reduce the amount of time you spend with groups of people that drain you rather than refresh you. Ask God how you can thrive given the limits of your personality.
I've been reading a book called Psychology Through the Eyes of Faith, and one of the chapters talked about ways to bring about more happiness in our lives:
Break the cycle of negative thinking.
Compare ourselves with those less fortunate.
Take pleasure in the moment.
Focus beyond self.
Exercise, sleep, and silence create a sound body.
Give priority to close relationships.
Take care of the soul.
Have a More Restful Homeschool (+ Giveaway!)
Many of you who homeschool feel pressured to do more and more activities. One of the homeschool blogger friends I met at the 2:1 Conference this year (Aimee Smith) wrote a book called The Restful Homeschool Resolution. I'm giving away a copy of her book.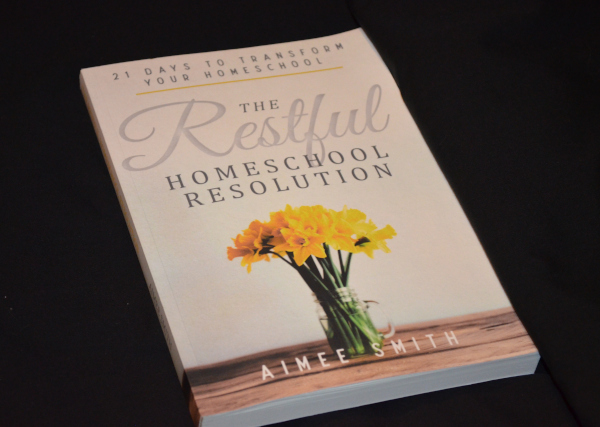 Here is a blurb from the back of the book: With personal stories, spiritual insight, and practical next steps, The Restful Homeschool Resolution helps you discover deep soul rest as you learn to trust God's perfect plan for your family's homeschool. Your resolution to seek Jesus first will transform your homeschool as your own heart grows more restful.
Along with this new book, I will also throw in two gently used books to go along with this restful theme: Margin: Restoring Emotional, Physical, Financial, and Time Reserves to Overloaded Lives and The Minimalist Home: A Room-by-Room Guide to a Decluttered, Refocused Life.
Finally, to start the new year, I am giving away two refreshing audios to everyone who signs up for my monthly newsletter below: "Overcoming Burnout" and "Relieving Stress & Tension."
Overcoming Burnout: Do you wonder why you never have any energy? Do you feel guilty for not being able to give more to your husband and children because of tiredness? Leave the guilt behind while listening to this refreshing one-hour audio, which gives three examples from Scripture of people who were exhausted, why they were exhausted, and how they overcame their exhaustion. I also give practical ideas from my own life, to help you avoid burnout in the future.
Relieving Stress and Tension: This one-hour audio workshop will show you:
How to get immediate relief from tension by pressing trigger points, minimizing noise, and other simple tactics.
How to get long-term relief from tension by trusting God, nurturing your marriage, and connecting with your children. Practical ideas to accomplish these. This section includes a short talk about intimacy.
How to build rest into your day, your week, and even your year, so that you don't feel constantly depleted.
If you would like the gift of these two audios at no cost to you, sign up for our refreshing newsletter below!

Tags: organizing, refreshing, rest, time, time management