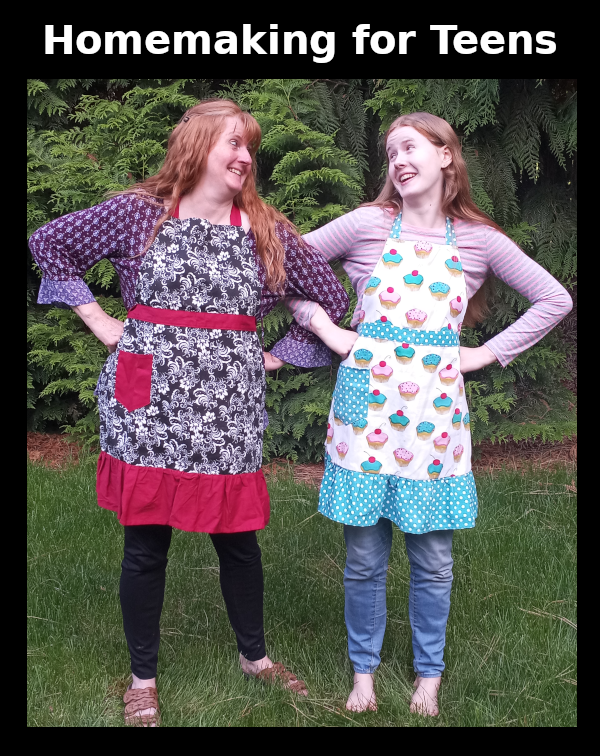 Are you looking to teach your homeschooled kids how to run a home? Today I'm going to show you some of the homemaking materials that we used in our homeschool.
My daughter has been learning more advanced homemaking skills for the past year, as she is more involved in the management of the home. One of the electives for high school is home economics, which includes cooking, baking, sewing, cleaning, and taking care of children. When I was gone for several weeks last month, my daughter managed the home perfectly, cooking meals from scratch, keeping up with the laundry, and tidying up the house. I was impressed.
My three sons also learned the basic skills of cooking, cleaning, and doing laundry before going to college, so that they would not squander their money by eating out every meal. They learned a lot of these skills through Cub Scouts when they were younger, including basic sewing skills. So home economics is good for anyone to learn.
We also did Dave Ramsey's Foundations in Personal Finance: High School Edition for Homeschool. This personal finance course is a one semester high school course that has DVD's and a workbook, where you learn all the basic financial skills to manage money well, including staying out of debt and budgeting. It goes really well with a homemaking course, since it includes skills needed to run a home.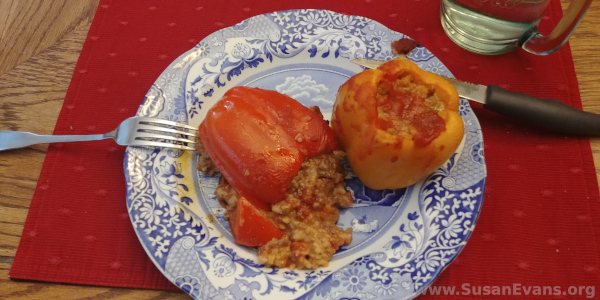 One of the homemaking materials we loved was The Homemaker's Journal: Practical Instruction for the Keeper at Home. It's an online PDF, which we printed and had spiral bound. It's a simple e-book that has information on how to maintain a home. It's not curriculum, though. But if it was the only book you had, along with teaching the practical skills beside you, that would be enough for a home economics course. Not everything has to have written tests. PE doesn't, for example. Most practical skills are learned best through hands-on learning.
However, there is something charming about a proper curriculum for home economics that has vocabulary, instruction, and quizzes and tests on the information. I found that in the Home Economics high school elective from Christian Light Education. There are 10 workbooks that teach all the skills for maintaining a home. We did not do all the workbooks, but instead, we did whatever we wanted. We spent 2-3 hours a day on homemaking this year, and we used a lot of materials, not just this set. So we flipped through the workbooks and did whichever ones we needed. For example, we did not do the health workbook because I had already done a full year of high school health from Apologia several years ago.
We loved the Introduction to the Kitchen workbook from this set. I flip through some of the pages in this video, so that you can see why we liked it:
There are many black and white sketches and illustrations to show hazards in the kitchen, for example. When my daughter tried to pick out the hazards, we were both laughing hysterically because some of the things, she would never have done instinctively, but other things, she was learning for the first time. We had many conversations we would not have had if we had never gone through these homemaking materials.
We also used another e-book called The Kitchen Primer: A First Textbook on Cooking & Keeping a Proper Kitchen by Martha Greene. We liked it a lot, but it is much more expensive than The Homemaker's Journal, and most of it is recipes. So in the video, I show this, and I explain how you can use a basic Betty Crocker Cookbook as a textbook for cooking and baking.
We also went through a mother-daughter devotional called Beyond Beautiful Girlhood Plus Companion Guide, where we answered the questions aloud instead of writing it down. It took us a full year to get through the book, even though it only has 7 chapters. We did a little bit most mornings before doing anything else. I loved how the questions were often a springboard for deep conversations with my daughter that deepened our mother-daughter bond. And it had to do with homemaking.
I don't know if I mentioned the fact that we didn't write in any of the books or workbooks, but that we went through them together. I love the fact that my daughter now knows how to run a home way more effectively than I ever did at her age! My husband snapped a picture of my daughter's stuffed bell peppers she made from scratch while I was gone on a two-week road trip. I was delighted to come home to a clean house with laundry all caught up and put away. Home economics is definitely worth teaching your teens!