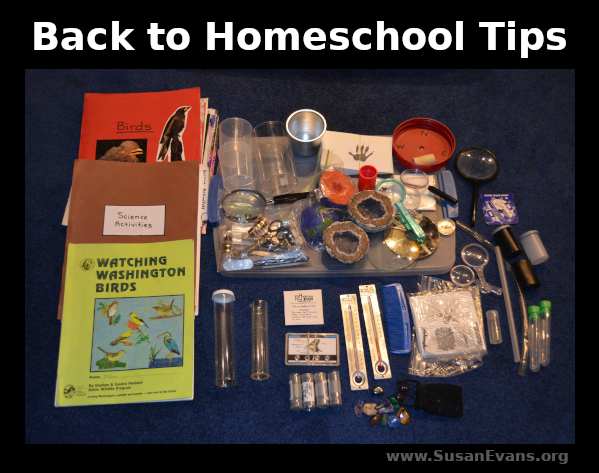 My aim today is to get you revved up about starting a new homeschool year, so I will be sharing with you some back to homeschool tips.
One of my top tips to get kids excited about the upcoming homeschool year is to spread out all the hands-on, fun activities you will be doing over the school year on a table or on the floor. Whenever I did this, which was every year near the end of the summer in anticipation for the new school year, my kids would get so excited about what we were about to study. For example, I would collect all kinds of things pertaining to a specific period in history. If it was medieval times, I would have lots of medieval stuff.
In literature, we might be studying Around the World in 80 Days, so I would have some items from different countries from around the world that we would be studying. This way my kids would be excited about world travel, and they couldn't wait to start the school year.
The same was true for the science concepts we would be studying. One year we studied botany, and we had so many plant-related items! We even got some carnivorous Venus flytraps and other cool plants in a new terrarium, just to spark interest in plants.
Here is a super short video, explaining my favorite back to homeschool tip:
If you want examples of this, watch me spread out lots of hands-on goodies for different time periods:
Another idea for back to school is to make a fun pencil cake:
Make sure you have all your essential homeschool items. Here is a list of all the items that I love to have on hand for homeschooling:
And if you are stressed out about homeschooling, take a look at some ways you can de-compress while having a successful homeschool year:
Have a great new homeschool year!

Tweet
Tags: Homeschooling, Organization, tips