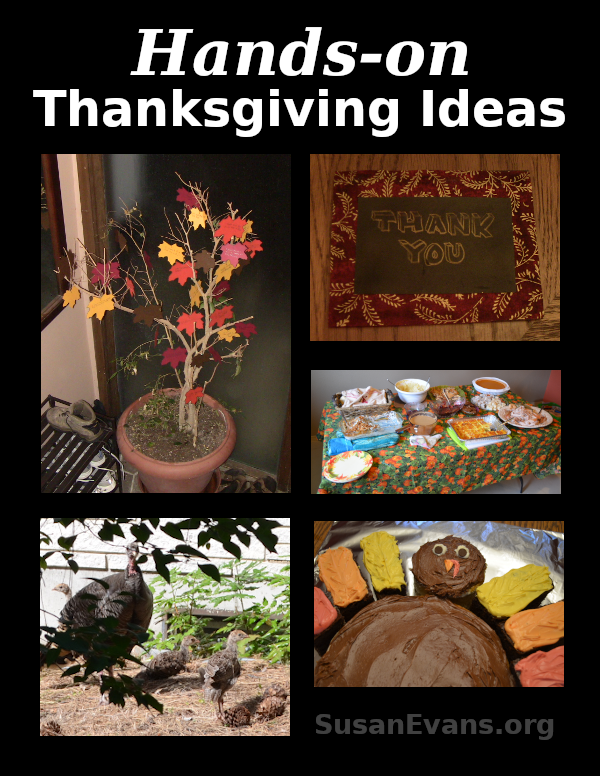 This year of all years, we have had unprecedented world problems, from the pandemic to the rioting to politics. If we focus only on the negative, then we are likely to become stressed out and even depressed. Instead, why not focus on the positive?
The relationships with family members that you have been able to build during this time.
The interior design projects you've done around your house because you have finally had time to get to things on your to-do list.
Gardening has also been really popular during this time, along with getting exercise, going for walks around the neighborhood.
I have had opportunities to pray with people and encourage them and see them draw closer to God.
Thanksgiving is about being thankful for what we do have. Look around you and list all the people in your life that you are thankful for, and all the basic things like shelter, a bed, food, and water that we often take for granted. I grew up in the third world country of Guatemala, and I saw true poverty, houses with dirt floors where all they ate every day was beans and rice. And a lot of times, they seemed happier than Americans.
Hands-on Thanksgiving Ideas
In this workshop, I speak about how to be thankful during difficult times, and I describe many hands-on activities you can do with your kids to make this Thanksgiving meaningful:
Here are some activities that can help us focus on thankfulness:
1. Thankfulness tree: Get autumn colors of card stock paper and cut out leaf shapes. Place the card stock paper into your printer and print out maple leaf shapes that your kids can cut out. (There is a free template here.) On the back of each leaf, the kids (and the adults) can write what they are thankful for. You can hang them up on an indoor tree with Christmas ornament hooks, or you can attach them directly to a blank wall with sticky tack.
2. Thankful cards: Why not write thankful cards to each member of your family this year, and hand them out at the Thanksgiving table? You can tell each person what you enjoy about them and why you are thankful for having them in your life. These can be really meaningful.
3. Point out positive qualities about each person: Go around the room after Thanksgiving dinner, highlighting each person. Other people say good things that they appreciate about the highlighted person.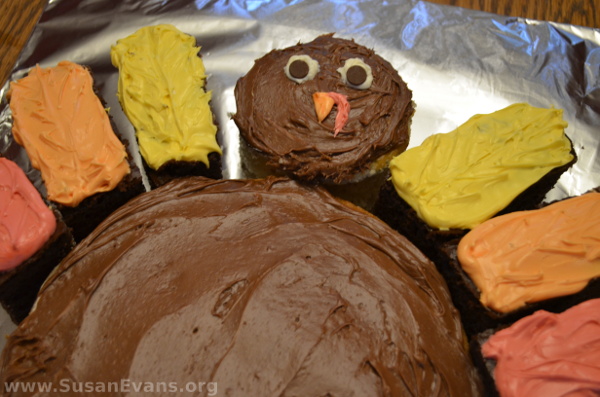 There are lots of other activities that you can do for Thanksgiving that are whimsical, but they are meaningful because you are doing something fun with your kids, and that creates family bonding:
1. Turkey cake: Bake two cakes from a box, one rectangular one and one with two circles. One circle is the body of the turkey, and you can cut out the head of the turkey from the other circle cake, with a bowl. Make the feathers with the rectangle cake. Or if you prefer, you can use twinkies. Then tint frosting with autumn colors, and frost the cake. I kept a small amount of white frosting for the eyes, and put chocolate chips for the pupils of the eyes.
2. Live turkeys: Go look at some live turkeys, either at a farm or around your neighborhood. (You can even watch an educational video about this bird.) For several years now, we've had a whole family of turkeys parading down our street. I captured it on video:
3. Culinary arts: Teach your kids how to cook and bake while you prepare for your Thanksgiving dinner. After Thanksgiving, have the kids brainstorm new recipes for leftover turkey. One year we made little pies by using a muffin tin to place circles of pie dough filled with cherry pie filling, and criss-crossed strips across the top of each one to give them a lattice look.
This is also the perfect time to study the Pilgrims. For several years, we put up a Mayflower ship on our back deck using inexpensive PVC pipe and an old white sheet. The kids dressed up as Pilgrims, and we made candles and butter from scratch. We did a lot of other hands-on activities, which I show you in my Pilgrims Unit Study (that happens to be on sale right now for only $5).
I hope you have gleaned some ideas on how to make your Thanksgiving more meaningful. It really does make a difference when we focus on the good. May you have a Happy Thanksgiving!

Tags: autumn, autumn activities, thanks, thanksgiving, turkey