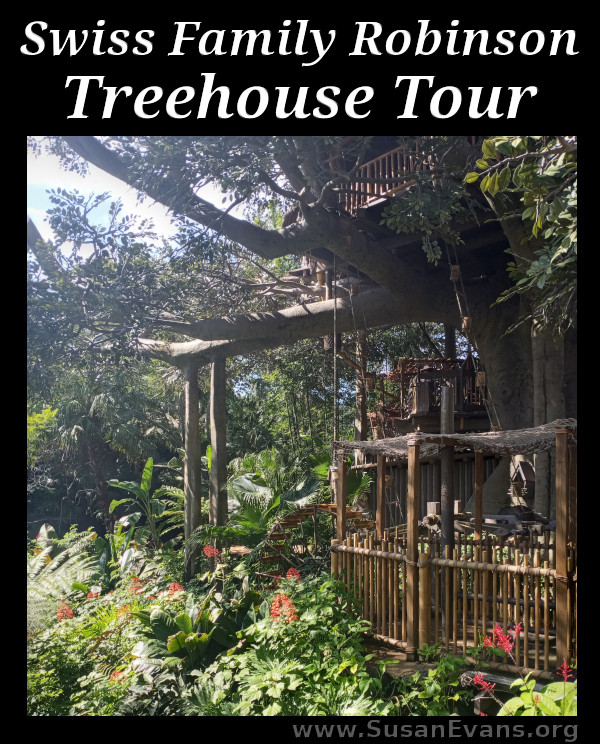 I've always been fascinated by treehouses, ever since, as a young girl, my parents took me to Disneyland in California, where one of the amusements was a replica of the Swiss Family Robinson treehouse from the famous classic book and movie. My young eyes widened at the thought that people could survive without electricity and running water by creating their own sustainable lifestyle, which today would be called homesteading. Being a homeschool family, my husband and I built a fort in between some trees in our backyard that looked and felt like a treehouse, complete with a rope ladder.
Over the years, the kids played in their treehouse-like fort, and we eventually went to stay the night in a large treehouse in Oregon. We filmed our experience back then and put it into the Unit Study Treasure Vault, under our description of all the hands-on activities we did for the literature unit study for Swiss Family Robinson.
Swiss Family Robinson Treehouse Tour (video)
Well, today I have a treat for you, which is a tour of the Swiss Family Robinson treehouse in Disneyworld, Florida, where my husband and I took our kids for a family reunion last summer. We walked through the entire treehouse, stopping at each area with the video camera, giving you a virtual tour:
Years ago when we read the book Swiss Family Robinson as a read-aloud, my kids were excited to draw treehouses from their own imagination. I think my oldest son was 8 years old when he created this drawing: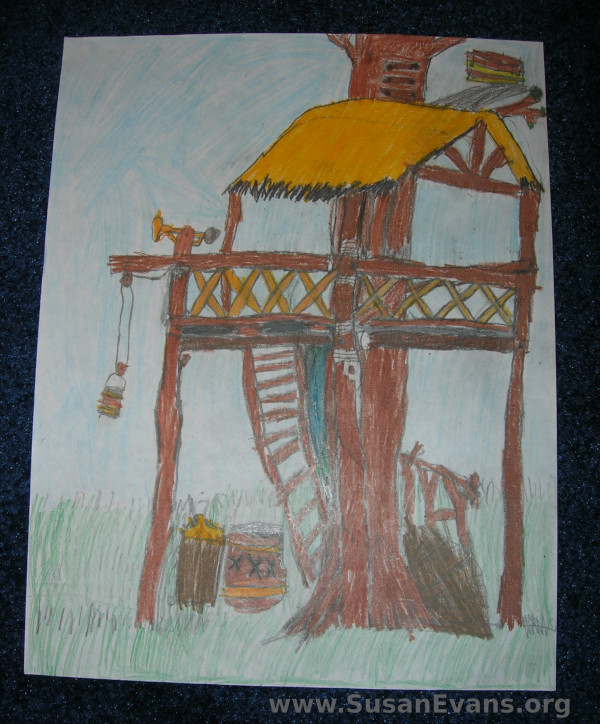 Years later, my sister (my kids' aunt) and I created a 3-D model of a treehouse from odds and ends of wood and other bits of cloth and pebbles. We fastened it all together with hot glue. This is what it looked like, along with a description of how we created the entire project: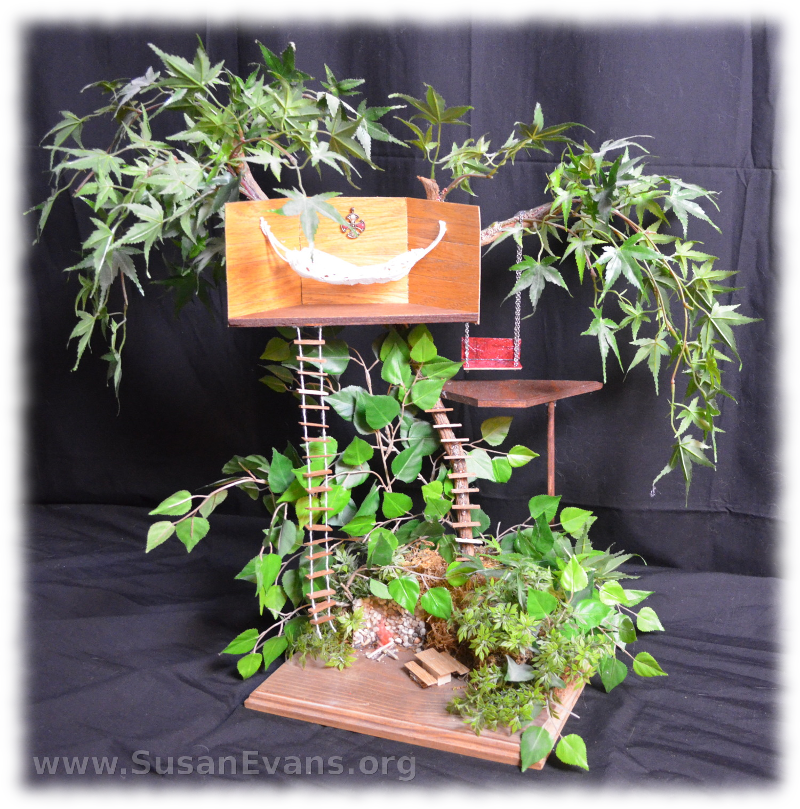 One of my younger sons (about 5 years old at the time) drew his own version of a treehouse: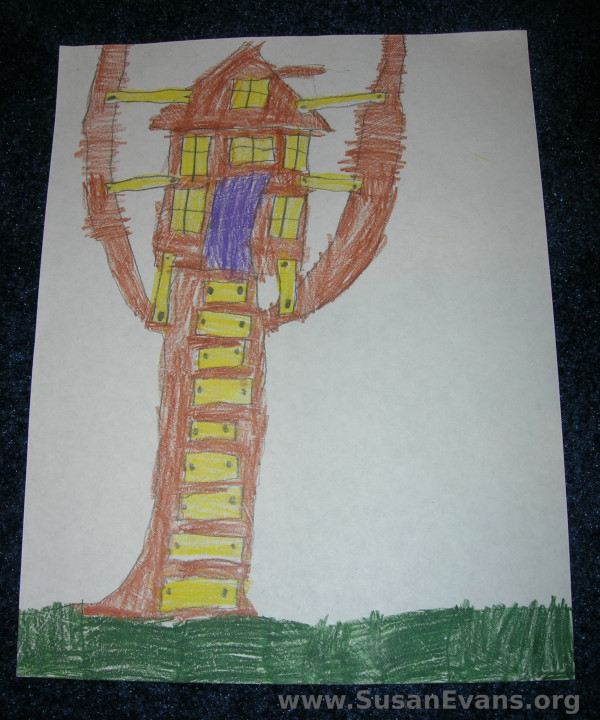 So kids of any age can enjoy creating drawings and sculptures of treehouses. One year at a state fair in our area, we saw some children's models of treehouses. The children used popsycle sticks, branches, and other odds and ends to glue together their masterpiece: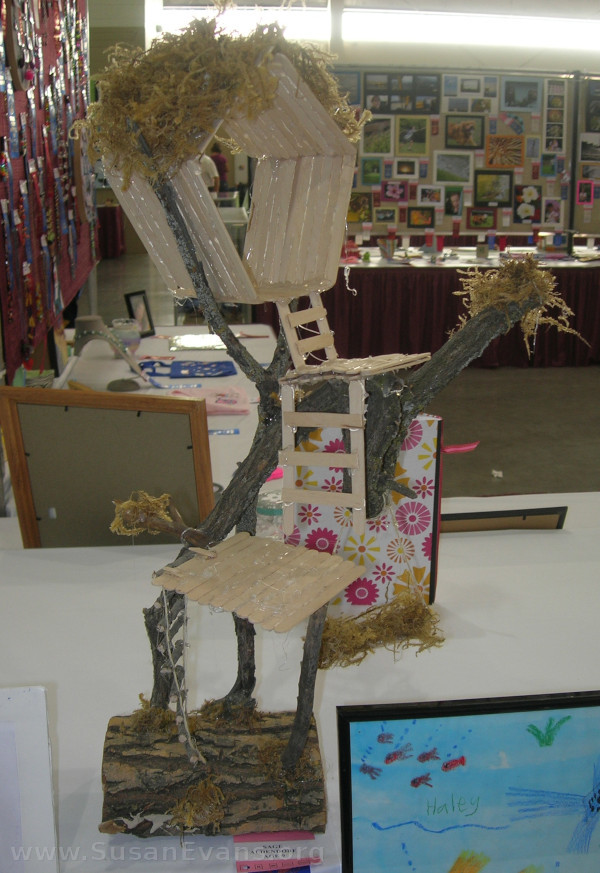 We have truly loved the Swiss Family Robinson Treehouse theme over the years, and now that we are able to give you a taste of it with this tour, we thought we'd add the drawings and treehouse models to inspire you. To find out what other hands-on activities we did for the Swiss Family Robinson unit study, you can see our cram-packed article inside our Unit Study Treasure Vault, along with our real-life overnight stay at a treehouse down in Oregon!

Tags: Disney, Disneyworld, treehouse