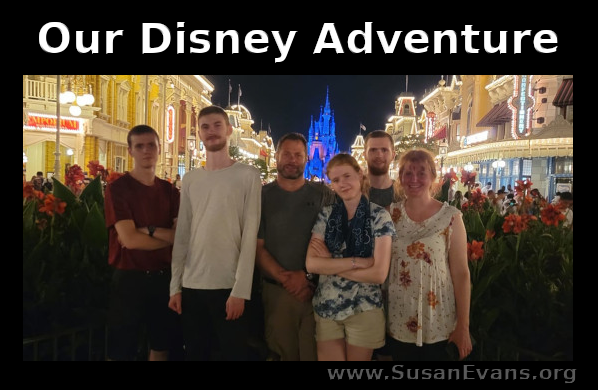 This year we had the opportunity to take our family to Disneyworld for the first time, for a family reunion. My husband got a bonus at work, and we got a military discount through my son Stephen, who is in the Air National Guard. It is something my husband had always wanted to do with the kids, because when he grew up in California, he used to go to Disneyland, and he had many happy memories he wanted our children to also experience.
While at Disney for four days, we entered four different theme parks: Magic Mountain, Epcot, Hollywood Studios, and Animal Kingdom. If you ever go in the summer, be aware that is is hot and humid, because that might affect your energy level. Oh, and there were downpours of rain almost every day. Regardless of the long lines, the Lord answered my prayer that my feet would hold out, and that I would not be limping through the park. That was truly a miracle because I've had problems with the arches of my feet, and I've often limped home from a short neighborhood walk.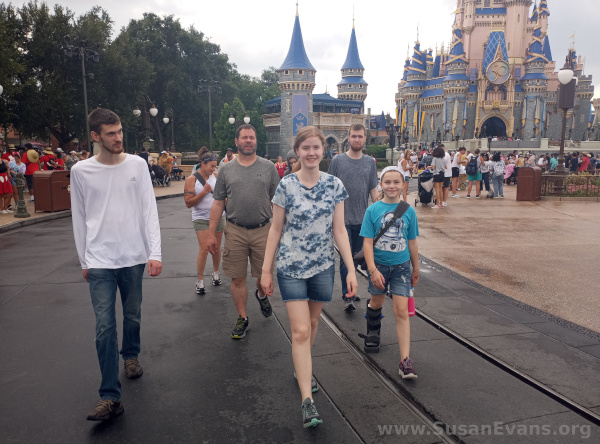 Magic Kingdom
One of the first rides we went on was the Pirates of the Carribean. It was nearly exactly as I remembered it as a kid. Yes, even though my parents were missionsries in Guatemala, when we came up for furlough, we sometimes went (at least twice as a child) because my grandma lived near Disneyland.
The only difference that my husband noticed was the pirates were not chasing women. Instead the women were chasing the pirates, or one pirate was chasing another pirate. For those of you who remember the ride (or for those of you who have never been), we filmed the ride:
The next ride we took was the Jungle Cruise. You get into a boat, and your tour guide gives you a description of the jungle and its cartoon-like animals. He used a lot of humor, as you can see:
We rode on a lot of other rides at the Magic Kingdom on the first day: Big Thunder Mountain Railroad, Tiki Room, Haunted Mansion, and Space Mountain. Since we had entered the park at 9am, by the time it poured rain at 4pm, we were ready to go back to the hotel.
On day four, we returned to the Magic Kingdom and did the Mad Tea Party, It's a Small World, Swiss Family Robinson Treehouse, Astro Orbiter, and Seven Dwarves Mine Train.
Epcot Center
The second day, we went to Epcot Center, which is like traveling around the world. It was an overcast day and somewhat drizzly, but we got some clear plastic rain ponchos so that we could keep going. We went to all the countries, including the ride Grand Fiesta Tour Starring the Three Caballeros in the Mexico section:
One of my favorite areas of Epcot was the Morocco section. You could walk around the cobbled streets and feel like you were at the Moroccan market. I loved all the architecture, textiles, and lamps.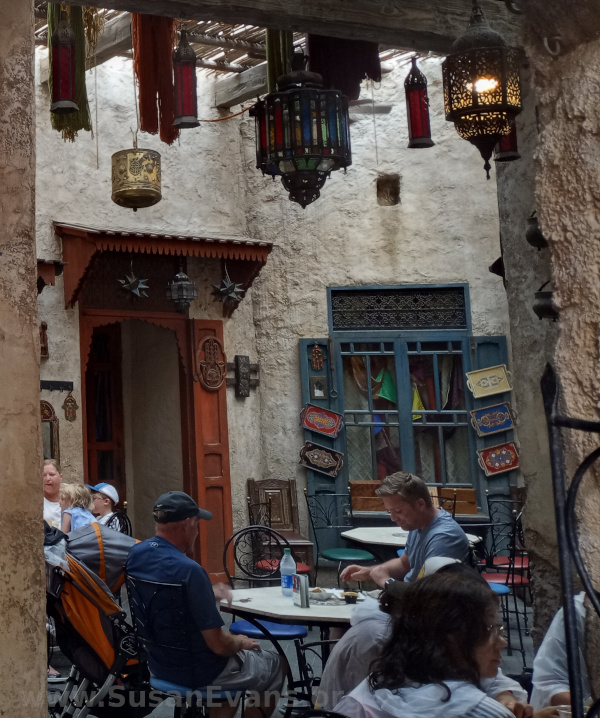 Later we went to Soaring Around the World—which I LOVED! It felt like you were hang gliding around the world on a virtual ride. We also did the Mission Space, Test Track, and Spaceship Earth rides from Epcot.
Hollywood Studios
At Hollywood Studios, we went on the Tower of Terror, Star Wars Millenium Falcon, Muppet Vision 3D, and Star Tours. The Tower of Terror is basically a Twighlight Zone episode that you are involved in, and the elevator drops. It was definitely high intensity.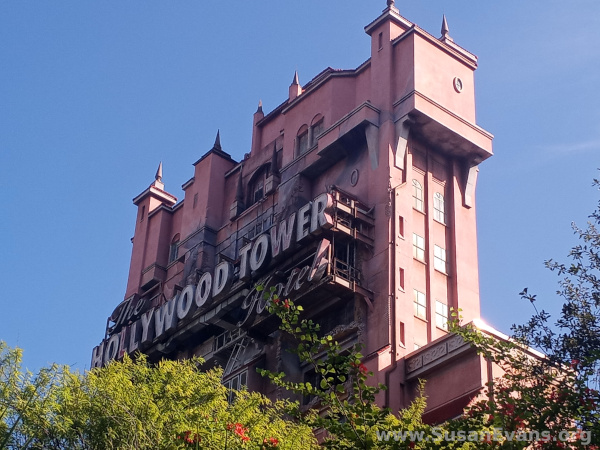 Star Tours and Star Wars Millenium Falcon were both Star Wars themed rides where we were in spaceships, trying to outrun enemy ships.
The Mupper Vision 3D was super fun, where we sat in the theater of the Muppet Show, seeing everything in 3D, including the hecklers on the balcony to the right of the theater. Years ago our family created our own episode of the Muppet Show, so my whole family enjoyed this experience.
Animal Kingdom
At Animal Kingdom, we went on Expedition Everest, Kilimanjaro Safaris, and Avatar Flight of Passage. By far, my favorite ride in the entire Disneyworld parks was Avatar Flight of Passage, which was virtual reality where you ride on top of a dragon through the air, over clifftops, and through ocean waves. It was breathtaking—so much so that I rode on it twice. I never knew that one of my bucket list wishes was to fly through the air, and now I got to do it!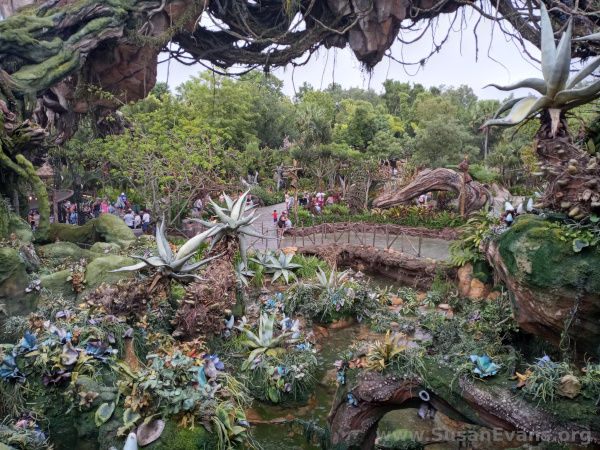 The Kilimanjaro Safari was a lot of fun. Come with us on our safari:
All in all, our Disney Adventure was truly magical. We got to see the fireworks at the Magic Kingdom on the final night, which we enjoyed greatly. I'm so thankful to have had the opportunity to visit Disney with my whole family, along with Alan's sister and her kids. My kids got to know their cousins in a much more in-depth way, and I had many good conversations with my sister-in-law. It was an unforgettable trip!