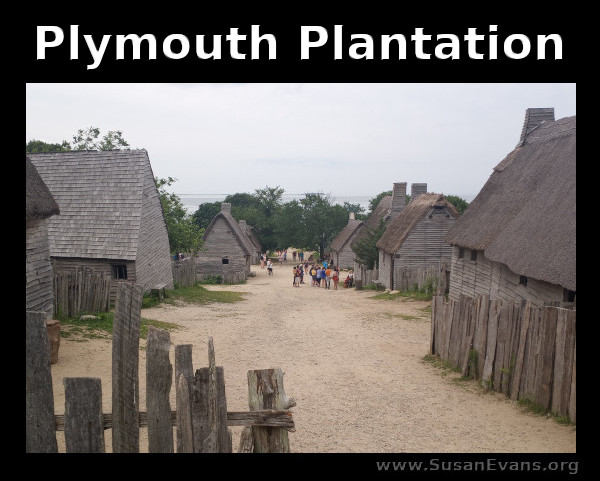 How would you like to walk through a reproduction of the original Plymouth Plantation, as if you were one of the Pilgrims landing in America for the first time? Today we will give you a virtual tour! A few months ago, my family was able to visit extended family on the east coast, and one of our field trips was Plymouth Plantation in Massachussetts. I was pleasantly surprised at how extensive the property is. You can see the ocean from the village, and each house had furniture from the 1620's.
Plymouth Plantation Tour
At the beginning of the tour, we saw a Wampanoag longhouse. From the outside it looks small, but inside it's very large. First the Native Americans built the structure with bent sticks. Then they filled it in with bark and other materials. They had openings in the ceiling, where smoke could escape.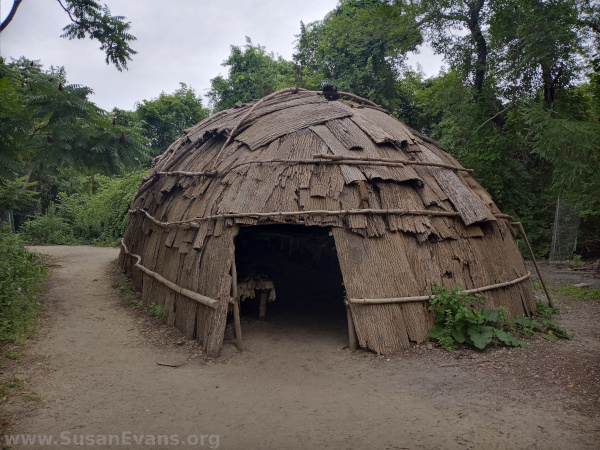 As you can see from the video, the inside of the Wampanoag longhouse had ribs, and the walls were lined with blankets and furs to keep everyone warm. The fire would have been kindled in the middle of the room for warmth as well as for cooking.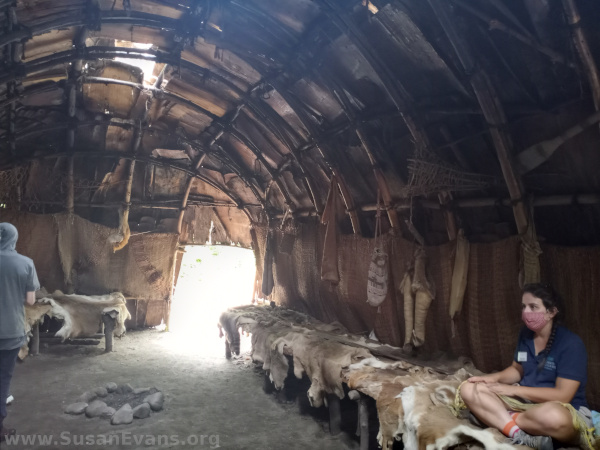 The Pilgrim village had people that were dressed in period costumes as well as tour guides that gave demontrations. I filmed snippets of several of these actors and tour guides. A couple of women were singing an old melodic hymn, a Pilgrim man in one of the cabins was talking about what life was like back in the 1620's, and a tour guide gave me a demonstration of cooking in that era. It was all very interesting.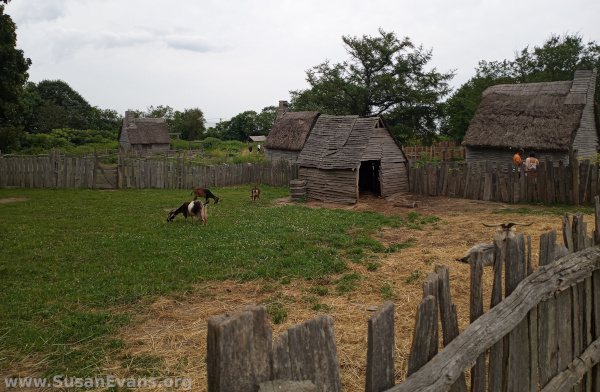 I enjoyed seeing the furniture in each of the houses. The beds each had curtains around them to keep in the warmth and to have privacy from the rest of the cabin. Each house had a chimney with a place to cook over a fire for the kitchen area. A small table and chairs rounded out the furniture in each house. The Pilgrims were simple folk.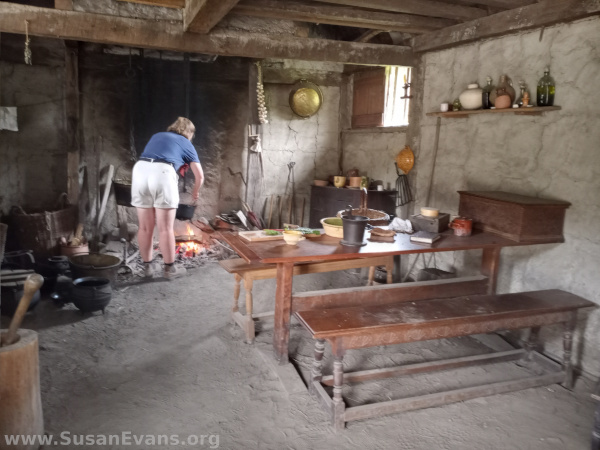 At the head of the street was a fort, where cannons were kept as well as places to look out above the village, to see if danger was coming. This fort had a place downstairs that looked like it would have been used for school or church, since the entire village could have fit in it.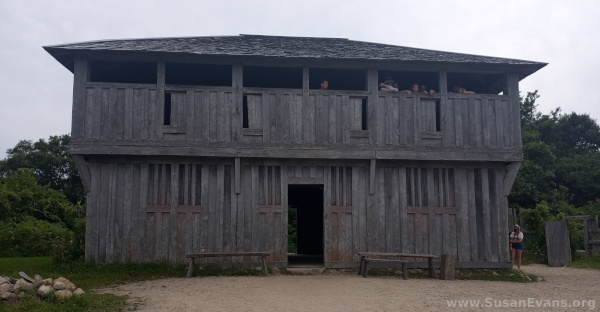 I also loved the animals and gardens surrounding each Pilgrim house. It really felt like we went back in time!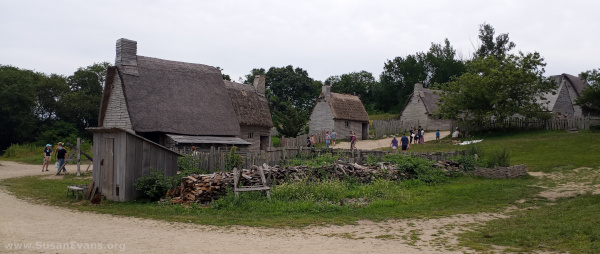 For more hands-on activities for this time period, take a look at our Pilgrims Unit Study, on sale right now for only $5!

---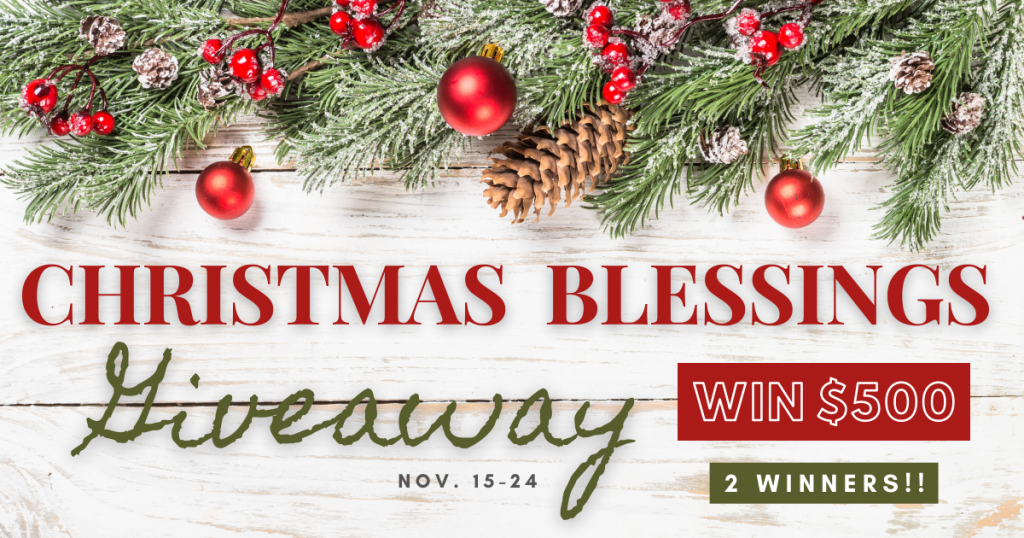 The Christmas Blessings Giveaway is in its 8th year, and we are excited to once again bless not one family, but two, with some cash for the holiday season! I'm teaming up with an amazing group of bloggers with the hope of making this Christmas the best yet for TWO families by giving away $500 in Paypal cash to each family!
While we wish we could bless many more families, we were able to come up with a big prize for TWO families – $500 each (delivered via Paypal) – that we pray will make a big difference in their lives this Christmas season – whether it's to fulfill their kids' Christmas wishes, pay off some bills, or to help build some savings, our prayer is that it helps to lessen any financial burden and/or fills a specific need.
There are lots of entry options in the Rafflecopter form below – the more you enter, the better your chance of winning!  I know it can seem tedious and time consuming to go through all the entries, but isn't a chance at $500 worth it? I think it is!  Plus, all of these amazing bloggers donated their own money toward the cash prizes, so this giveaway wouldn't be possible without them.  I hope you'll take the time to check out each one. Who knows, maybe you will find some new blogs to follow.
The giveaway will run from Monday, November 15th through Wednesday, November 24th (ends at 11:59pm EST). Winner will be notified by email shortly after the giveaway ends and will have 48 hours to respond to claim the prize or another winner will be drawn. You must have a Paypal account to win.  By entering this giveaway, you agree to be added to the email lists of the participating bloggers.  Please be sure to read the Rafflecopter terms and conditions upon entering.

Tweet
Tags: American History, field trips, hands-on learning, history, Pilgrims, thanksgiving, village