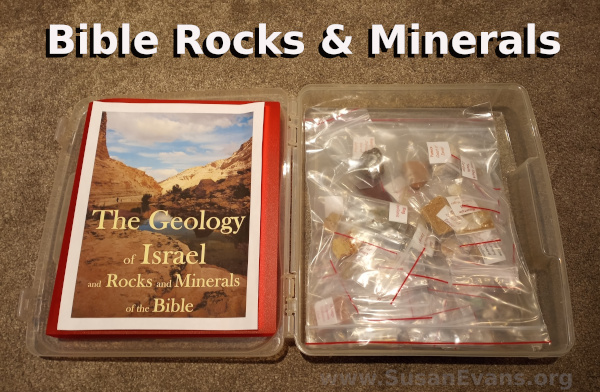 I've recently noticed many places in Scripture that mention rocks and minerals. Years ago we purchased The Geology of Israel and Rocks and Minerals of the Bible from Northwest Treasures, which is a set of rocks and minerals that is specific to the Scriptures and to Israel, along with a binder with information about the rocks contained in the set. My kids gathered around to look at each rock and mineral to better understand, in a tangible way, the rocks referred to in Scripture.
Today I'm going to show you my two favorite rocks and minerals passages in Scripture: the precious stones in the Levitical priest's garments and the precious stones referred to in the New Jerusalem that descends from heaven in the book of Revelation.
Precious Stones of Levitical Priest
I've always been fascinated by the precious stones in the high priest's breastplate, which is described in Exodus 28:17-20. These stones were to be put into the beautiful woven garment that was for Aaron, the high priest. Each one of these rocks represents a different tribe of Israel, starting with Ruben (the oldest), all the way down to Benjamin (the youngest.)
We are going to look at some of these rocks and minerals today:
You can also do a craft for the breastplate of the high priest with shiny bronze paper and plastic gems to represent each color of the precious stones listed in Scripture. I give instructions on how to do this craft here: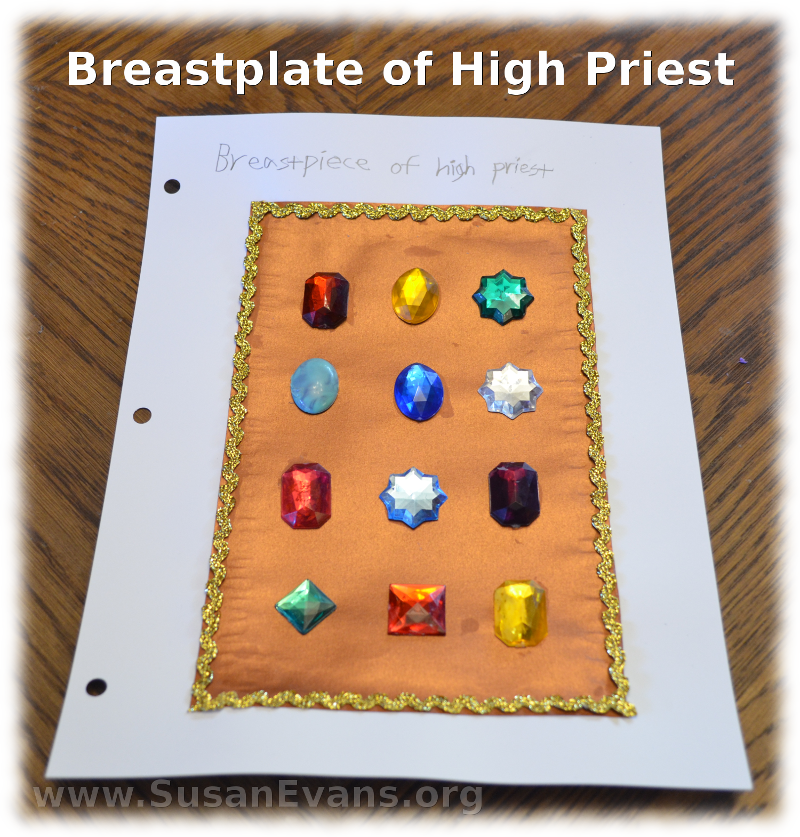 Precious Stones from Revelation
My other favorite Scripture passage for the study of rocks and minerals is the New Jerusalem coming down out of heaven in Revelation 21:10-21.
The New Jerusalem is in the shape of a square, with three gates on each of the four sides. Each gate is an enormous pearl, and under each gate is a foundation stone. Each foundation stone is decorated with every kind of precious stone. These stones are mentioned: jasper, sapphire, chalcedony, emerald, sardonyx, sardius, chrysolite, beryl, topaz, chrysoprase, jacinth, and amethyst. Let me show you:
The length and width of the New Jerusalem is 1,500 miles across, so you have 500 miles for each foundation stone! Those are enormous foundation stones, one huge rock under each gate, holding up the walls of the New Jerusalem. The foundation stones are adorned with beautiful designs (maybe mosaics!) with only precious stones that glitter and sparkle in the light. God will be the Light of the city. You can see the precious stones adorning each foundation stone because the ground is transparent gold like glass! So the streets are clear, but they are shimmering because they are made from gold rather than sand, which is what window glass is made of. WOW.
We made a model of the New Jerusalem:
If you enjoy hands-on Bible activities, you will love Using Simple Costumes and Props to Teach the Bible, as well as the Bible section of the Unit Study Treasure Vault, which contains hands-on activities for every book of the Bible!
__________________________________________________________________
$200 Christmas Giveaway!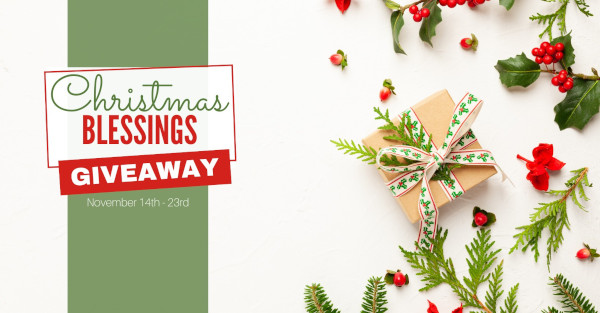 Once again, I have teamed up with some generous bloggers for the 9th annual Christmas Blessings Giveaway to bless FIVE families this year. In the past we have had two winners for this giveaway, but this year we wanted to give to even more families – we are giving away $200 gift cards to 5 families! Each winner will get a $200 gift card to wherever they choose – a restaurant, clothing store, grocery store, online retailer – any place that offers gift cards!
There are lots of entry options in the Rafflecopter form below – the more you enter, the better your chance of winning! I know it can seem tedious and time consuming to go through all the entries, but isn't a chance at $200 worth it? I think it is! Plus, all of these amazing bloggers donated their own money towards the prizes, so this giveaway wouldn't be possible without them. I hope you'll take the time to check out each one. Who knows, maybe you will find some new blogs to follow.
The giveaway will run from Monday, November 14th through Wednesday, November 23rd (ends at 11:59pm EST). Winner will be notified by email shortly after the giveaway ends and will have 48 hours to respond to claim the prize or another winner will be drawn. By entering this giveaway, you agree to be added to the email lists of the participating bloggers. Please be sure to read the Rafflecopter terms and conditions upon entering.